While many know us at Sun Chemical as leaders in printing inks and packaging technology, we're also the experts in anti-counterfeiting solutions.
With brand protection products from Sun Chemical, you're able to design unique, innovative, and proven security features to protect your brand.
Since we work with brand owners and converters from strategy formulation through implementation, you'll be protected no matter where you are — or where your brands are sold and distributed.
With benefits like this — along with nearly a decade of anti-counterfeiting experience — it's no wonder some of the largest companies in the world depend on us to protect their products every day.
Sun Chemical brings you from concept to shelf with pre-press, brand protection, color management, plates, ink, coatings and consumables — all from a single source.
Verigard®
Sun Chemical's Verigard security offering is a proprietary machine-readable covert taggant system used to protect some of the world's most recognized consumer products from counterfeiting and diversion. Verigard is a high-level security system; authenticity is ensured by using Sun Chemical's exclusive V400 handheld reader.
Key Features:
The system offers a "lock and key" approach to verification and is available only from Sun Chemical Brand Protection solutions.
Verigard works by identifying a unique signal from taggants that have been mixed into standard inks, varnishes, coatings, adhesives or substrates.
Authenticity is easily determined when "Authentic" appears on the customizable LCD screen, which can be programmed in any language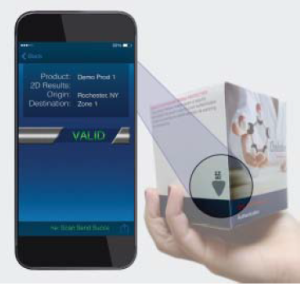 AuthentiGuard™ — Smartphone Authentication
AuthentiGuard is a comprehensive anti-fraud solution which fights product diversion, counterfeiting, warranty fraud, and other threats. The technology combines a concealed mark, smartphone application, and database into a two-part product authentication solution which helps secure the supply chain and protect your brand.
The platform also captures all data from product scans including result, device ID, geolocation, image capture, & other valuable intelligence to give you greater insight of what is going on in the field. With AuthentiGuard customers and field personnel can verify the authenticity of their product and, with the backend data capture; you gain a better understanding of what is happening in the marketplace.
Protect against counterfeiting, diversion, warranty fraud & other costly schemes.
Customizable smartphone application supports marketing functions like product registration, redemption offers, & other customer engagement efforts.
Access data from the AuthentiGuard portal or integrate with business intelligence platforms & other systems for greater field insight.
Scans are an evidence source for fraud investigations.